Stainless Steel Corner Tables
Stainless steel corner tables maximise the usable space in your commercial kitchen. With the ability to suite a range of tabling around a corner. create a seamless link of tabling constructed using high grade stainless steel.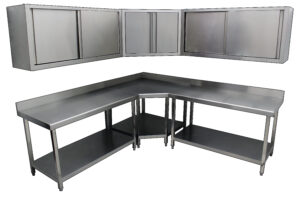 Caterkwik's Range
Versatile options ensure every space is used; giving you the maximum storage space you need. Available in a range of depths and lengths with rounded corners and adjustable feet. Fully stainless steel construction ensure optimum hygiene in any catering establishment. With offerings from the biggest brands in fabrication including: Vogue, Cater-Cook and Parry. Guaranteed quality and durability to deal with the day to day rigours of any commercial kitchen. Caterkwik.ie can also offer bespoke solutions, so if you can't see the size you need please do not hesitate to call us with your requirements.
Showing the single result
Showing the single result